---
---
Children's Day in the English classrooms (June 1st, 2023)
Lucky students, who had English classes in the afternoon of Children's Day, June 1st, were treated to a lot of fun. There were a wide variety of different fun activities in the classrooms. Students took part in dancing, exercises, singing, arts, crafts, drawings, painting and lots and lots of different games – some skill and some luck!
It was great to see the students so happy on this special day for them! 
---
G3, 4 and 5 Grade Level Assessments
On the 15h, 17th, and 18th of May, Grades Three, Four and Five student took an English assessment to help us determine the students' English language skills. This assessment is called the Grade Level Assessment (GLA).
This assessment is used in helping us determine the appropriate English class placement for the 2023-2024 school year. 
Over three days students undertook a variety of skills assessments in Oral Speaking and Listening, Reading Fluency (oral), Reading Comprehension, Writing and Listening Comprehension.
We also ask teachers to complete various surveys about each student's classroom learning to help us decide on the best leveled class for everyone.
It's a big process to assess over 1000 students over three days, so thanks goes to all our administrators and teachers for the hard work. But most of all thanks to the students who all did their best, and I am sure they are relieved it's over…… until next May!
---
Open House: April, 2023
This year was the first year since Covid-19 that we were fully open to hold Open House for the whole Elementary School.
All 2,000 students and an estimated 3,000+ parents were at the school to watch English and Chinese demonstration lessons as well as take part in some other activities around the school.
This year Clifford's Open House program was to give parents a glimpse into their child's classroom life.
Here is a brief summary of the English classes at each Grade level.
G1
Parents were treated to the students practicing their Speaking skills in phonics and speaking lessons. Dialogues and conversations about Senses featured in six of the classrooms, and the other four were working on phonics, word families and Sight words.
G2
The focuses for the Grade Two classes were Grammar and Phonics. Students took part in fun activities to test their knowledge and understanding of various grammar concepts as well as phonics they have been learning this year.
G3
The Grade Three classes were about some Grammar topics. Grammar concepts covered were Prepositions and Parts of Speech. Every student in two of the Grade three classes gave their parents a surprise by presenting a short talk about their parents.
LELS
The students in these classes presented material about Vocabulary and Grammar using fun games and interactive activities. Learning English can be fun as well!
G4
Most of the Grade Four classes were focused on Speaking, Grammar, and Story Making. Students were encouraged to show their skills by creating their own language to demonstrate their understanding and use of the various language challenges presented to them. Two Grade Four classes discussed Life Cycles, which is part of their "Let Life Be More Green" Science theme.
G5
All the Grade Five classes have varied classes – Writing, Reading, Grammar, Vocabulary and Science were all covered over the ten lessons. For writing the students used their skills and imagination to write a story. In Reading the students learned to identify the Five Story Elements. In Grammar they covered different kinds of Prepositions, and how to use them correctly. For Science the students learnt about "Light" one of the Grade Five Science topics.
G6
The Grade Six classes included lessons on Grammar (conditional sentences), Word Study (Revision and use of Root Words), Speaking (Creating a good Speech) and Science Presentations (Healthy Bodies and Minds). Students in Grade Six were able to demonstrate their knowledge through various activities and games.
UELS
The two classes were very different. One was focusing on learning and using phonics to help read and write and the other was learning about and using good Interview techniques.
Thank you to all the teachers and the parents who came to our Elementary Open House event!
---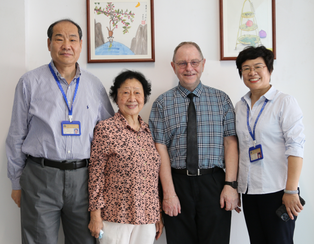 Special Visitor at Open House.
Ms Li, also known as Principal Li, visited the Open House to take a look at her "old school".
She is pictured here with the School Director, Western Associate Principal and current Principal.
Ms Li was Principal of Clifford Elementary Bilingual from 2001-2008.
Since then she has visited the school for almost every Open House.
---
---
March into Reading is the Elementary Bilingual Reading month.
During this month the staff, students and parents are involved in many reading activities to encourage a love for reading. We have Reading minute targets and rewards, Guest Reading, Peer Reading, DEAR Reading, Book Character Day, Reward day and a Class reading party as well as many other literature based activities in classrooms.
---
Another very successful Literacy Month!
Reward Day
Congratulations Clifford Elementary Bilingual School.  This year we had another very big Reading Month! The total minutes the students' read during Literacy Month is 1,458,263.
We also had a total of 2,311 Guest Readers come to our classes to read – this year it was all students, teachers and staff, so that's a great number!! Well done everyone!
The final total was announced during the Book Character Dress Up day! Students and teachers dressed up as a favorite book character and, due to weather, we had the announcement in the classrooms and a dress up parade around each building.
In keeping with years past, we have reached all our goals. This year our goal was again 1 million, 200 thousand minutes, even though we shortened the number of days. We still managed to break that goal very easily!
For achieving this goal, the students celebrated by having a classroom literacy party, a buffet lunch, no homework for a weekend and time for an outdoor literacy activity.
Classrooms also receive extra books for their classroom reading libraries as rewards for the number of minutes the students read. For each 1,500 minutes they receive one extra book. Classes also receive one extra book for each four guest readers they have during the month. Most classes earned around 50 extra books
March is always a fun time at Clifford School and this March was no different. Students participated in reading activities such as Peer Reading - with a student from a different grade and DEAR reading, which we had twice a week for silent reading time. Each class had a number of guest readers that came to our classes to read. We had other students, parents and many members of both the Chinese and Western staff come to read to our classes. 
We also had a fantastic Book Fair, where we sold over 120,000RMB worth of English books. That means we will be able to choose over 12,000RMB worth of books for the library and classrooms.
Congratulations Clifford School!  Fantastic Reading!  Keep it up all year round!
---
Guest Readers
As part of Elementary Bilingual's March into Reading, we had parents, students and teachers reading to classes all through the month.
Parents were also able to come in and read again this year, and I'm pleased to say there were parents coming in to each grade. It's always great to see parents reading and being good role models to our students.
Students were able to sign up to read in up to four other classes. Most students in G4, 5 and 6 signed up for all four reading sessions, reading in all grades from G1 to G6. Many students in Lower Elementary also signed up to read, some even to higher grades. 
Many Western and Chinese staff also read to classes, including the School Principal and Administration staff.
We had a total of 2, 311 Guest Readers over the three weeks!
What a great way to grow interest in reading books for fun, as well as practicing oral reading skills. The students have had a great time listening to so many stories!
We look forward to next year, when hopefully many more parents will also be able to come and read to the classes too.
---
 Peer Reading
During "March into Reading" the students have a time every week where they can read together with a student from a different grade level.
Lower Elementary students are paired with a student from Upper Elementary. Each week they read together in the library for 40 minutes.
Sometimes the younger students read, and the older students help them, at other times the older students read and the younger students enjoy the story.
This is a very positive reading experience for all, and sometimes the students even meet each other at other times to talk.
Students really love their March into Reading Peer Reading time.
---
Drop Everything and Read (DEAR)
For 20 minutes every Tuesday and Thursday in March all of the English classes and English teachers will "Drop Everything And Read" – which means all other activities will stop during the English class and everyone will "read"!
Students enjoy this quiet time just reading to themselves. It's a time to relax and become part of the book they are reading. These days, our students rarely have a time at school to just to sit and enjoy reading. We hope this time encourages student to try and find time every day to read a little just for their enjoyment.
---
Another Book Fair Success in 2023
Our "Oink 'n' Oink" Elementary Bilingual Book Fair was a great success yet again. Because there were so many fantastic books, we managed to sell 123,000rmb of books.

The school earned over 12,300RMB worth of free books. We will use our free books for classroom and library books supporting our English, Science and Social Studies curriculum.
We were very pleased with the students who did a great job choosing their own books, sometimes with help from TAs, teachers and Oink 'n' Oink staff. This was made easier due to the variety of suitable books that were available for every age level.
Thank you to all the students, parents and friends for supporting the March into Reading Book Fair. See you next year!
---
G1-3 Elementary Bilingual Halloween
Halloween is one of the most enjoyable holidays we celebrate all year, especially for children. Having a day that is filled with spooky ghosts, creepy gremlins and all sorts of make believe creatures only intensifies the magic that surrounds the day. Halloween is a time for kids to collect as much candy as they can and sit with their friends comparing and sharing their candies.
The students at Clifford had the chance to be any imaginary person or creature that they could think of. The students in Grades 1 – 3 started the day by presenting their costumes to the rest of the school in the Parade in the Recreation Center. They were also entertained with a presentation of photos from past Halloween celebrations and they sang the "spooky" songs they have been learning in Music class. Students were judged by a panel of teachers to see who had the best costumes and those who won were awarded with a certificate and Halloween themed book. The teachers then took their students to another classroom and to the English and Chinese Administration for "Trick or Treat", where they collected candy. After all the candy was collected the students returned to their main classroom where they spent the remaining class time playing Halloween games or making a Halloween craft. For this special day the students were treated to a Buffet Lunch by the school. It was a delightful day and all the students looked amazing in their Halloween costumes!
G4-6 Elementary Bilingual Halloween
Students in the Upper Elementary building (G4, 5 & 6) had a great time at Halloween this year. More than 80% of the students dressed up for this special event! There were princesses, ghosts, cartoon characters, and scary faces, to name a few of the many interesting and creative costumes. The students celebrated by receiving some candy by trick-or-treating. First they went to receive candy from the English and Chinese administrative staff and then they visited various classrooms in the building. Students also voted on their favorite costume in each classroom, and those students received a certificate and Halloween themed book prize each. After the trick-or-treating activity, students were engaged in Halloween activities in the classroom making scary bookmarks, crafts and artwork! Some classes had a scary movie to watch too! For this special day the students were treated to a Buffet Lunch by the school. Everyone had a great time and we look forward to another successful event next year too!
---
Faculty Conference, September, 2022
At 4:30 pm on September 8, 2022, more than 400 Chinese and foreign teachers from our school gathered to celebrate Teachers' Day and commend outstanding faculty members. Principal of the International Kindergarten, Zhang Jinling presided over the teacher conference.
Dr. Clifford Pang, the chairman of the school council, was unable to attend the meeting, but he was concerned about the development of the school, so he specially prepared a speech, and entrusted School Director Zhang to speak a few words to the teachers on his behalf.
Dr. Zhang Xinyou, the School Director said affectionately that Dr. Pang was the founder of Clifford EnglishSchool and the chief designer of the internationalization of bilingual teaching; without his foresight and correct leadership, there would be no sustainable development of Clifford English Experimental School.
In the letter, Dr. Pang expressed his holiday greetings and best wishes to all the faculty and staff, and highly praised the teachers for forging ahead despite difficulties, their professional dedication, living up to expectations, and creating brilliance again and again. On behalf of the school council, Dr. Pang also congratulated the outstanding faculty and staff, and welcomed the newly hired Chinese and foreign teachers who brought new ideas, new methods and new strength to our school. He said that China's private education policy is currently in a stage of major adjustment, and standardizing and high-quality development has become the main theme. Our school is far-sighted and has been in the right direction for more than 20 years. However, it is still necessary to persevere, continue to focus on "standardized development" and "fine management", and work towards the goal of "better and stronger". He pointed out that diversity, specialization, and internationalization of running schools are the advantages of private schools and the foundation of their existence, and will also be the long-term strategy of our school's future development.
Zheng Xiaobing, the Principal of the middle school, Margaret Thompson, the representative of foreign teachers, and Yuan Yuan, the representative of Chinese teachers, responded respectively.
Principal Zheng Xiaobing, on behalf of the school administration, put forward two thoughts on the future development of the school. One is to seek quality in the specification, and to highlight our school's advantages of "fine management, high-quality teaching, diversified school running, and individualized cultivation". It is to promote development and to give full play to the advantages of the existing teaching programs with various characteristics, and cultivate more outstanding graduates for the international community. As the new principal of the middle school, he also expressed that he will, with his high loyalty and enthusiasm for the education cause, live up to the heavy trust, work hard and make progress to create a harmonious, vigorous and healthy school spirit.
Margaret Thompson, a foreign teacher from the International Program, especially emphasized innovative teaching in her response speech. She believes that children are naturally curious, motivated and inquisitive. How to control and guide their inner curiosity is the key to teaching innovation. Teachers should learn to let go and truly be "student-centered", focusing on cultivating students' interests, hobbies and specialties, so that children have more autonomy in learning and use knowledge to explore the world.
Yuan Yuan, the representative of Chinese teachers, said in her speech that innovative brand teachers are needed by the times and the driving force for the sustainable development of the school. Teachers should improve their information-based teaching capabilities, learning guidance capabilities, and teachers' professional development capabilities, and exercise themselves in teaching practice, moral education practice, class management, and all-round education. She also pointed out that it is necessary to cherish jobs, overcome job burnout, boost enthusiasm, and improve performance.
In the new school year, Clifford English School will follow the school-running direction guided by the school council, tap its potential, focus on management, improve quality, strengthen its characteristics, produce high-quality products, promote development, strive for higher and better school-running standards, and continuously meet the social needs of the students.
After the speeches, the Outstanding Teachers for the 2021-2022 school year were presented their awards. For Elementary Bilingual we had an Outstanding Teacher - Mari Turner. A representative for the Chinese and Western departments then took an oath of professionalism and commitment - for the Western teachers, Ryan Otto, from Elementary Bilingual gave the oath. 
After all the formalities, photos were taken of the new teachers and the award winners. 
---
Opening Day Ceremony - August 29th. 2022
Monday, August 29th was the first day of the 2022-2023 school year! The day started with Clifford's Opening Day Ceremony. Over 2,000 elementary students were in attendance along with all of the Chinese and foreign professional teaching staff.  
---
Grade 6 Graduating Classes (June 2022)
As we reach the end of the year, the Grade 6 students have taken their final Chinese and English exams. They did take a little time to make some memories by taking class photos they will keep to look at over the years. With over 350 Grade 6 students, it was a little difficult to set up the whole class photo, but we managed. Here you can see all the classes from A to J with their Western and Chinese teachers and Teaching Assistants. We wish all our graduates great success in the future as the move onto the next stage of their education.
---
---